4:30 PM, Tuesday Nov 12
Fries Center for Global Studies Commons, FISK 201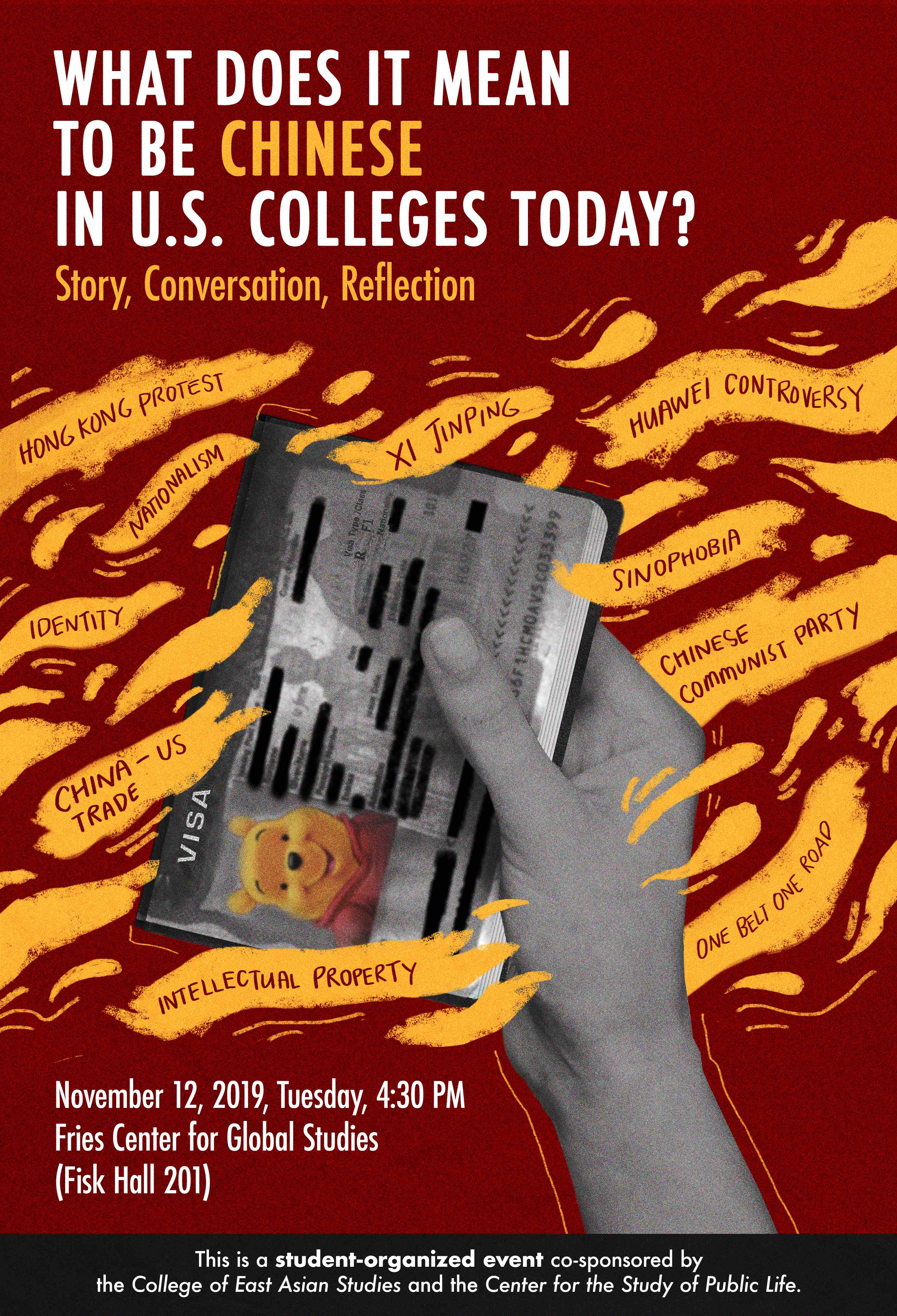 A forum featuring the diverse, complex, and evolving stories of Chinese-identifying students and faculty, be they be born in Mainland China, Hong Kong, Taiwan, Singapore, or New York City, and a safe and intimate space where everyone, regardless of identity, can feel comfortable to share their own and engage with others' perspectives. Stories will be read anonymously by student volunteers, followed by a discussion moderated by Professor
Yu-ting Huang
(Assistant Professor of East Asian Studies)
Whether it is the U.S.- China trade war, the Huawei controversy, the Anti-Extradition protests in Hong Kong, or the growing Sino-phobic sentiments in academia and the public sphere, 2019 has not been an easy year to be Chinese in America. Chinese students, faculty, and staff at Wesleyan encounter these challenges in various ways. However, caught between the nationalist propaganda of the CCP and the overly simplistic narrative of Western media, voices from the Chinese community have been largely left out. Often seen as a homogenous, organic whole, the "Chinese identity" entails much complexity on political, cultural, and personal levels that are worthy to be explored, discussed, and understood.
This is why we from the Chinese community at Wesleyan want to make ourselves heard. We want to speak up in order to offer authentic, diverse and nuanced views about our connection and struggle with our Chinese identity, to foster a better mutual understanding with the rest of campus, and to explore common ground on which constructive and respectful conversations can be possible in the future.
There will be no photos, videos, or recording at the event.
Sponsored by the College of East Asian Studies and Allbritton Center for the Study of Public Life.
Fore more information, please contact:
Mary Alice Haddad
Chair, College of East Asian Studies
Professor of Government, East Asian Studies, and Environmental Studies