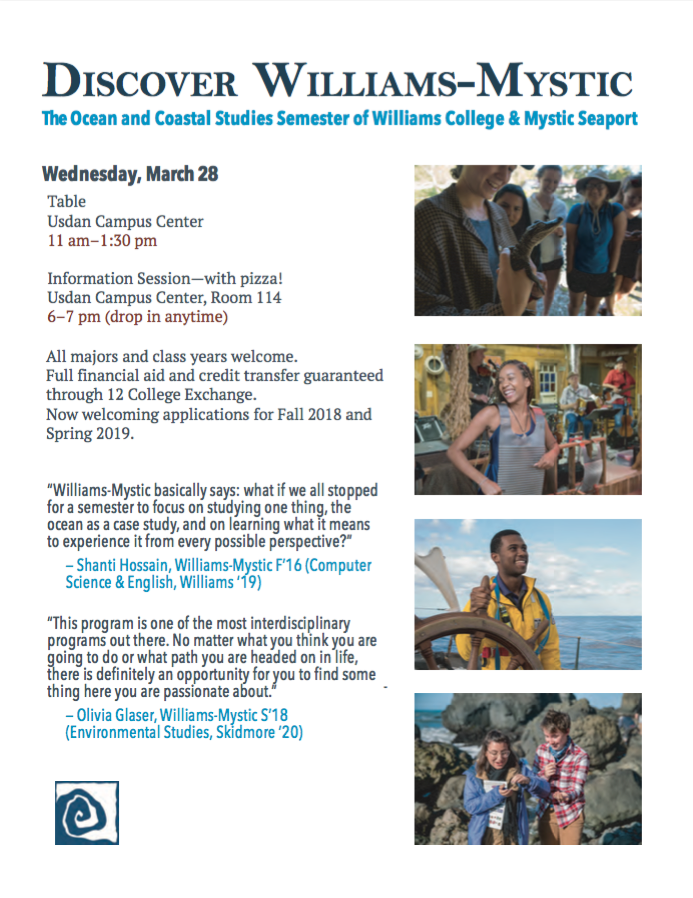 This Wednesday, March 28, we invite you to more about Williams-Mystic: The Maritime Studies Semester of Williams College and Mystic Seaport.
Visit our table in Usdan from 11:30 – 1
Attend our information session in Usdan 114 from 6 – 7 pm; drop in anytime. Pizza will be served!
At Williams-Mystic, you'll:
Experience field sites on all 3 of America's coasts
Spend  10 days learning to sail a tall ship — no experience required
Gain primary research experience in all 4 of your classes. You'll gather scientific data from local beaches, discover some of the 2 million artifacts and manuscripts at Mystic Seaport's Collections and Research Center, and much more
Learn about the science, history, literature, and policy of our oceans and coasts from 5 faculty — and from fishermen, community leaders, activists, and scientists across the country
Engage with current environmental issues by learning how they affect our oceans and coasts and the communities that rely on them
Become part of a close-knit, residential community of 18–24 students from colleges across the country
Call Mystic Seaport, the country's largest maritime museum, your home campus
All majors encouraged to attend! Credit and financial aid transfer guaranteed through the 12 College Exchange Program.
Spaces still available for the Fall '18 semester.