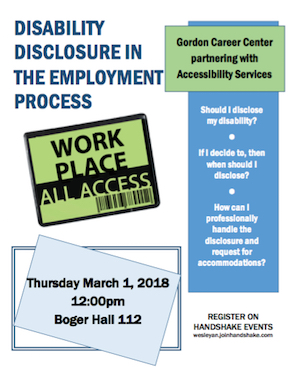 The Gordon Career Center is partnering with Accessibility Services to offer a workshop on Disability Disclosure in the Employment Process.
The workshop will discuss questions such as:
Should I disclose my disability?
If I decide to, then when should I disclose?
How can I professionally handle the disclosure and request for accommodations?
The workshop will be held on Thursday, March 1st, at Noon, in Boger Hall 112.
Register for the workshop on HANDSHAKE EVENTS: https://wesleyan.joinhandshake.com/login