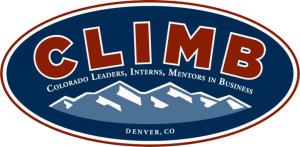 The Gordon Career Center at Wesleyan University is excited to announce a new partnership with the Denver-based CLIMB Internship Program.
Colorado Leaders, Interns and Mentors in Business (CLIMB) is an intensive paid summer internship program for students from Wesleyan, Yale, Harvard, Stanford, Middlebury, Brown, MIT, Denison, and Northwestern McCormick School of Engineering. The 30-40 students learn the business, professional, civic, and social offerings of the Denver area. CLIMB offers students challenging paid jobs, introductions to the community and its leaders, alumni mentorships, interesting events and group housing for the summer.
The CLIMB program consists of four principal compo
nents to educate students and connect them with Denver and Colorado.
Challenging Internships
The cornerstone of the program is to provide high-quality, 7- to 10-week paid summer internships (private, nonprofit, and public). The program offers a wide range of employment opportunities in metro Denver. A few of our past employers include the University of Colorado Health Sciences Center, Pathfinder Systems, the Colorado Fourteeners Initiative, Analysis Group, Children's Hospital Colorado, Emich Volkswagen, Hosting.com and Apartment Investment and Management Company (AIMCO).
Events
The program sponsors a series of programs and events during the summer to educate students about Denver, and introduce them to Colorado. Events have included discussions with the Mayor, the Superintendent of Denver Public Schools, Senator Gary Hart, the President and CEO of the Denver Broncos, business leaders, discussions of climate change and water policy, a lecture and Shakespeare play "under the stars," rafting on the Colorado and Arkansas rivers, picnics and hikes, community service opportunities, and alumni-hosted dinners.
Group Housing
Interns are housed together, at the Program's expense, at Campus Village at Auraria, www.campusvillagedenver.com. Students share dinners and discussions of work, and build close and lasting friendships, and understandings of their various schools.
Mentors
Students are paired with local mentors to help them learn about Denver, and to connect them to Denver. Mentors are friends and models for the students as they demonstrate the balance of work, family, organizational commitments, and civic leadership. Alumni of participating schools are welcome to apply for mentoring opportunities by contacting climbinternships@gmail.com.
Current Opportunities
Internship opportunities across a variety of fields and industries are posted by the CLIMB Internship Program (rather than by each company) on Handshake. To see newly added opportunities log-in to Handshake, click on "Jobs & Internships," and search by the keyword "CLIMB."