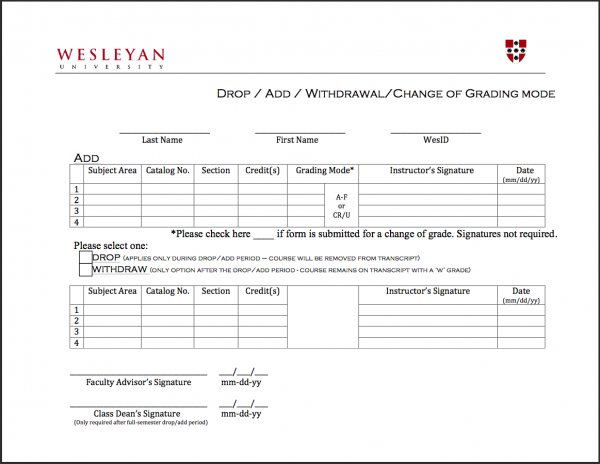 The last day to withdraw from full-semester and second-quarter classes for the Spring 2019 semester is Wednesday, May 1.  Completed forms are due in the Registrar's Office by 5:00 p.m. and must include the following signatures: instructor, faculty advisor, and class dean.
If you are thinking about withdrawing from a course:
Do use this time to talk to your professors, your advisors, and me about your concerns. If you can't make my drop-ins, please email me at dphillips@wesleyan.edu or call me at x2757 to schedule an appointment.
Do make sure you are taking advantage of all the resources available to you.
Do get the signatures of your instructor and advisor on your drop/add form. I cannot sign for either without his or her permission, so please save yourself the trouble of waiting to see me during drop-ins just for me to tell you that.
Do not wait until Wednesday at 4:00 p.m. to see me or you may find yourself waiting in a very long line!
Drop-in Hours: M 2-3, Tu 3-4, W 4-6, Th 11-12, F 2-4