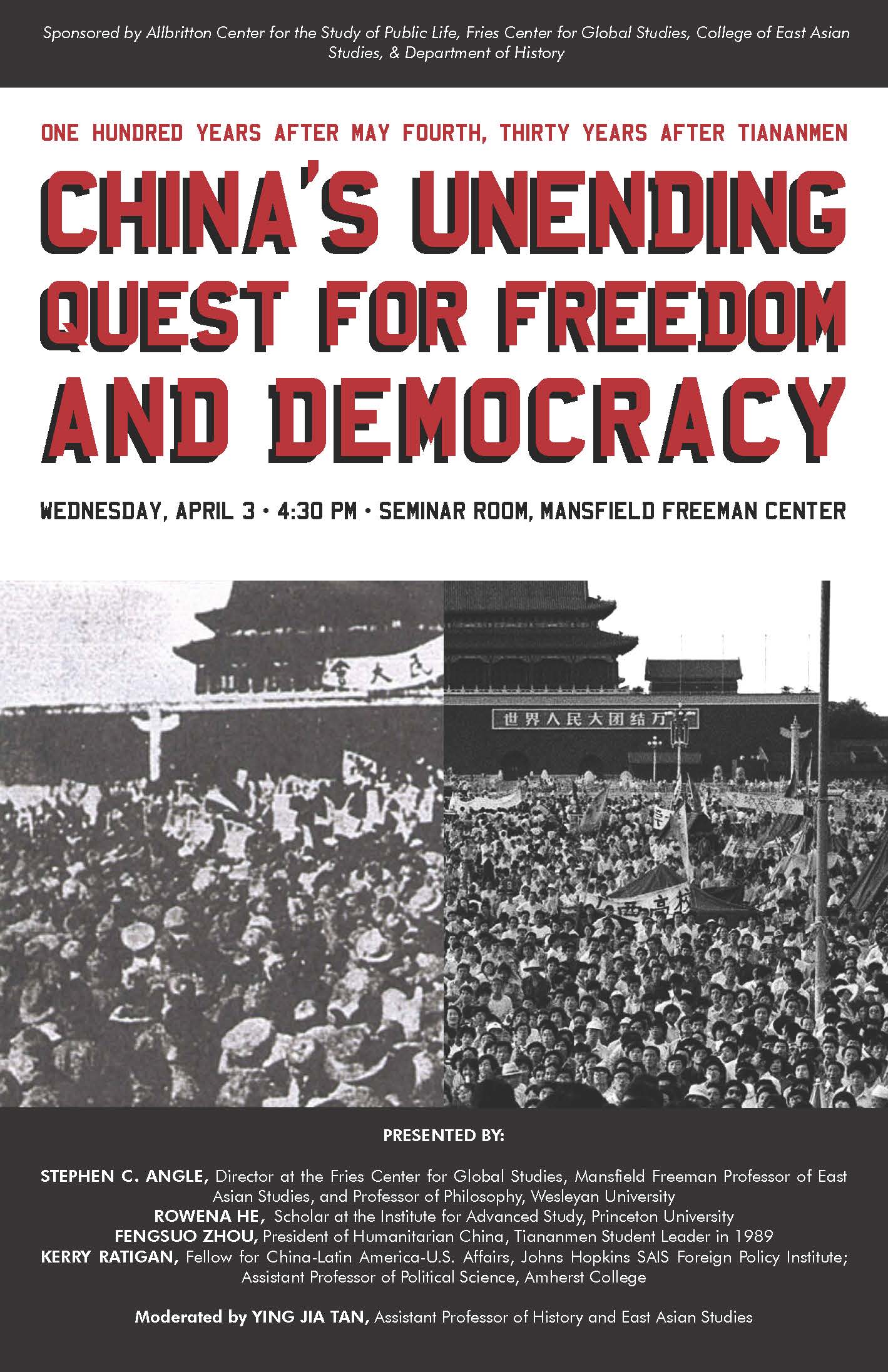 A Conversation About China's Unending Quest for Freedom and Democracy–One Hundred Years after May Fourth, Thirty Years after Tiananmen
April 3rd 4:30 PM; Seminar Room, Mansfield Freeman Center, 343 Washington Terrace
An inter-disciplinary forum to commemorate the 100th anniversary of the May Fourth Movement and 30th anniversary of Tiananmen Student Movement featuring:
Stephen C. Angle, Director, Fries Center for Global Studies, Mansfield Freeman Professor of East Asian Studies, and Professor of Philosophy, Wesleyan University

Rowena He, Scholar, Institute for Advanced Study, Princeton University; Author of Tiananmen Exiles

Fengsuo Zhou, Tiananmen Student Leader in 1989, President of Humanitarian China

Kerry Ratigan, Fellow for China-Latin America-U.S. Affairs, Johns Hopkins SAIS Foreign Policy Institute; Assistant Professor of Political Science, Amherst College
On May 4, 1919, students gathered at Tiananmen gate to protest China's treatment at the Paris Peace Conference and inspired a movement for cultural and political awakening. Intellectuals looked towards "Mr. Science" and "Mr. Democracy" to emancipate the Chinese people from a culture of self-oppression. Seventy years later in 1989, students occupied the same location to call for democracy, accountability, and freedom of the press. The People's Liberation Army destroyed the statue of "Goddess of Democracy," as they moved into Tiananmen Square to brutally suppress the protests.
The twin anniversaries offer us an opportunity to reflect on China's "bitter revolution: How do intellectuals redefine their responsibilities after the May Fourth Movement and Tiananmen? What do these two events tell us about the future of "democracy" in China?
Sponsored by Allbritton Center for the Study of Public Life, Fries Center for Global Studies, College of East Asian Studies, Department of History
Contact information: 
Ying Jia Tan
Assistant Professor
Department of History
College of East Asian Studies
ytan@wesleyan.edu
Link: https://eaglet.wesleyan.edu/MasterCalendar/EventDetails.aspx?EventDetailId=88243