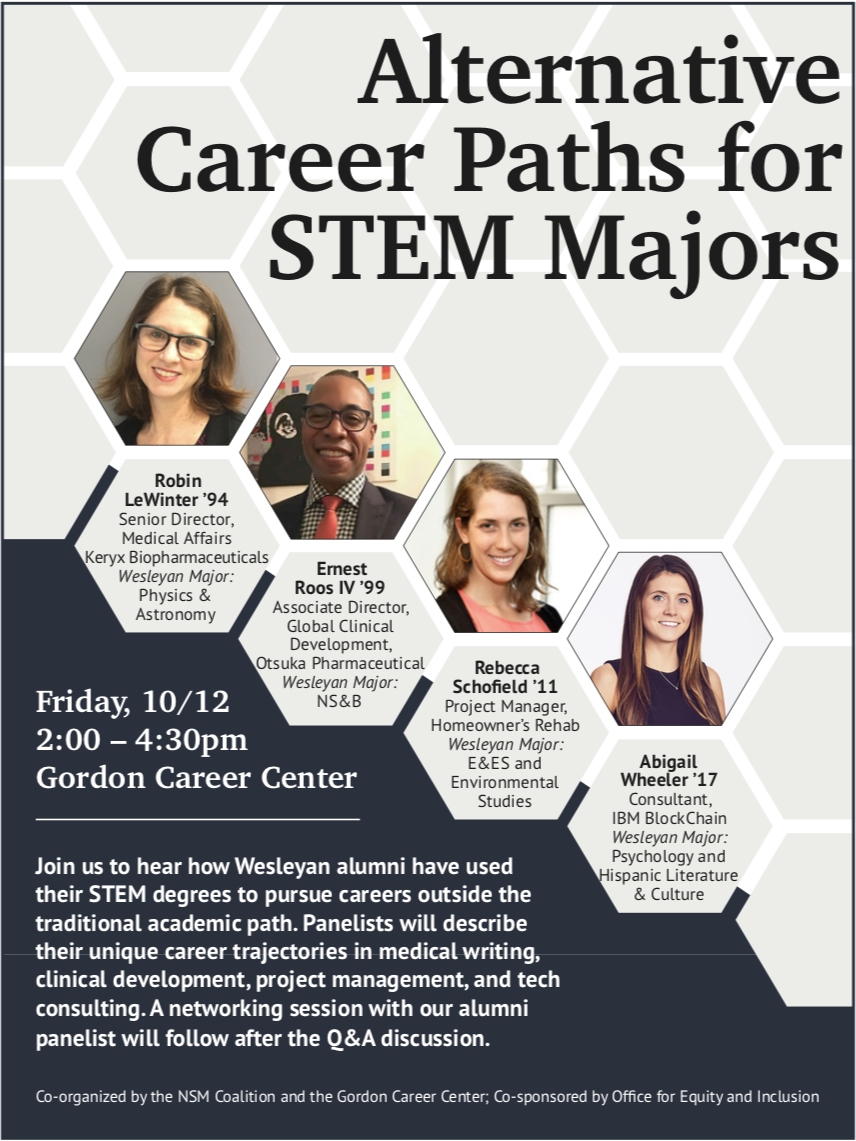 Robin LeWinter '94, Senior Director, Medical Affairs at Keryx Biopharmaceuticals Wesleyan Major: Physics and Astronomy
Robin has 15+ years of experience in medical affairs and communications. Most recently, she worked in the nephrology space, and prior to that she focused on rare disease at Keryx Biopharmaceuticals. She obtained her PhD in Neuroscience from the University of California, San Francisco and conducted post-doctoral work at SRI International before moving to industry. When not in the office, Robin spends way too much time watching her daughter Meredith play soccer and her son Liam act in plays. She also enjoys hiking and doing crosswords.
Ernest Roos IV '99, Associate Director, Global Clinical Development at Otsuka Pharmaceutical Wesleyan Major: Neuroscience and Behavior
Dr. Roos received his MD from the UAG School of Medicine and is actively completing his thesis for a
Master of Public Health from Mt. Sinai Icahn School of Medicine. At Otsuka, he is currently the project lead for both early phase R&D in Digital Medicine and the Pediatric Tourette's Team. Dr. Roos initially explored opportunities in the healthcare technology sector at two Wall Street startups to refine his perspective and execution of health industry transformative strategies. He implements these broad interpersonal, academic and professional tools in his current activities in clinical development to create groundbreaking therapy and technological innovations that transcend the limits of medical treatment.
Rebecca Schofield '11, Project Manager at Homeowner's Rehab, Inc. Wesleyan Major: E&ES and Environmental Studies
Rebecca earned her MA in Urban and Environmental Policy and Planning and a certificate in Community
and Environmental Studies from Tufts University. At Homeowner's Rehab, Inc. (HRI), she works to preserve
and create new affordable housing in the City of Boston through coordinating financing applications and project construction, as well as advocating for key policies and innovative technologies that better support sustainable development. To date, she has supported the refinancing and redevelopment of Auburn Court, the acquisition and financing of the 98-unit new construction Concord Highlands project (expected completion 2020), and the acquisition of Matheson Apartments (an existing 70-unit development in Worcester, rehab planned for 2019), as well as shorter-term refinancing and rehab projects within HRI's portfolio.
Abigail Wheeler '17, Consultant at IBM BlockChain.  Wesleyan Major: Psychology and Hispanic Literature and Culture
At IBM Blockchain, Abigail consults clients across industries in blockchain strategy and to deliver end-to- end blockchain implementations. Her team engages new clients in discovery workshops to explain both
the technology and IBM's proven consortium-led methodology for building networks, while helping clients refine and select best-fit business problems for a blockchain solution. She is also an active blockchain writer and editor for the IBM Institute for Business Value. In her free time, Abigail enjoys soaking up the vibrant restaurant scene in NYC, and is currently training for the 2018 NYC Marathon.